I'm in a band with all engineers. It can be challenging for me because I'm not
This is what happens when you give an engineer a Jerry guitar and he wants to know why the tone knobs don't sweep like a typical tone knob should. However, I get it and it makes perfect sense.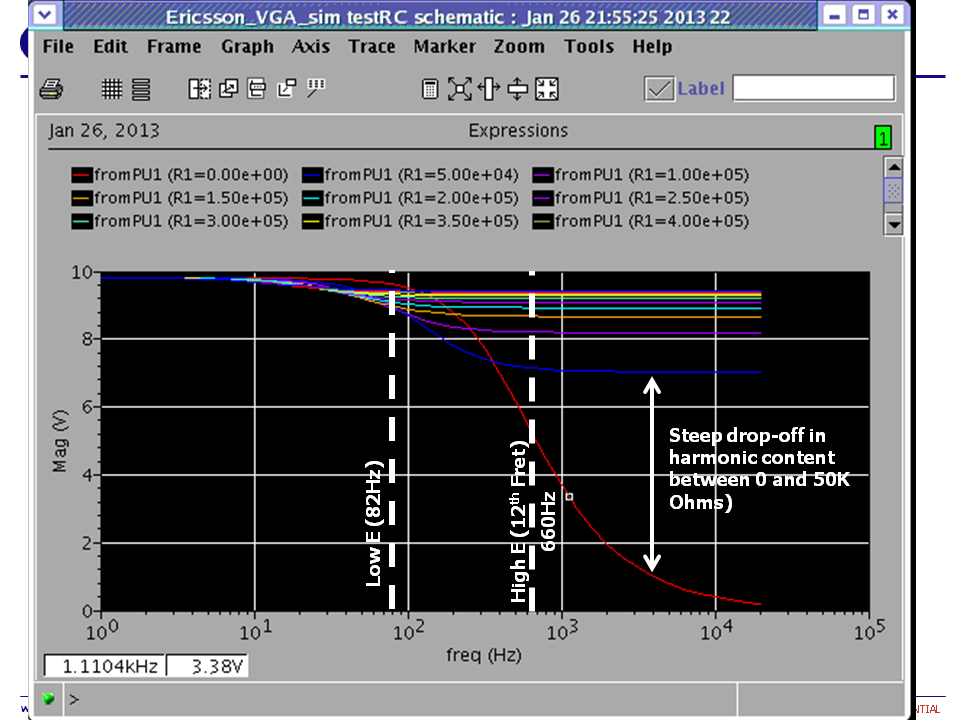 Attached is a plot of the frequency response for the RC circuit we were studying.
The white dashed lines represent all frequencies delivered by every note between the Low E and the High E (12th fret). Note that the x-axis represents frequency on a Log-scale. One thing to remember is that pick-ups introduce non-linearities. So, for example, when the High E 660Hz) note is picked, the pick-up transduces that vibration into a voltage, but because the PU is nonlinear, it will also generate harmonics at 1320Hz, 1980Hz, etc. I'm inclined to say that only first few,say first three or four, harmonics matter, since their amplitude gets lower and lower.
Each curve in the plot represents a different resistor value (our tone POT). Looking at frequency response, beyond 660Hz, you can see the steep drop off in harmoniic amplitude by changing the POT resistance from 0ohms (red line) to 50Kohms (blue line). I think that this may represent the 'step' response when we turned the tone knob - it sounds like it's either OFF or ON. Beyone 50kohm there's not much change in relative amplitude so there doesn't sound like there's any difference. Although, as you pointed out, you may be better able to hear this difference at a very loud setting.
An interesting aspect of this plot is that note that when R = 0ohms, I should be able to get more punch out of my lower bass notes. That's because there's more gain to be had because the harmonic content in the low notes (low E, 82Hz) fall well below 660Hz. You can see that the filter passes more signal between 82Hz and ~400Hz (which is about where the red line intersects the blue line).
So, during a rhythm sequence, it's looking like I should set the POT too 0-ohms to get that fat bottom end. Then before I lead, I barely have to turn the tone knob (no guess work!) to have the highs break through. So, as Matt said, highs are either ON or OFF. I can't wait to get to the jam room to see if all this behaves as I think.
keep in mind that this is 'ballparked and not stated as fact' the source impedance is based on the input impedance I found for a PAF PU on Wiki. Regardless, the plot provides a conceptual visualization on how to shape the response.
Any feedback about this?
Last edited by
Dozin
on Mon Jan 28, 2013 5:41 am, edited 1 time in total.

"Without love in the dream
it will never come true"