Jer setting up his Pedal Steel Guitar at a gig: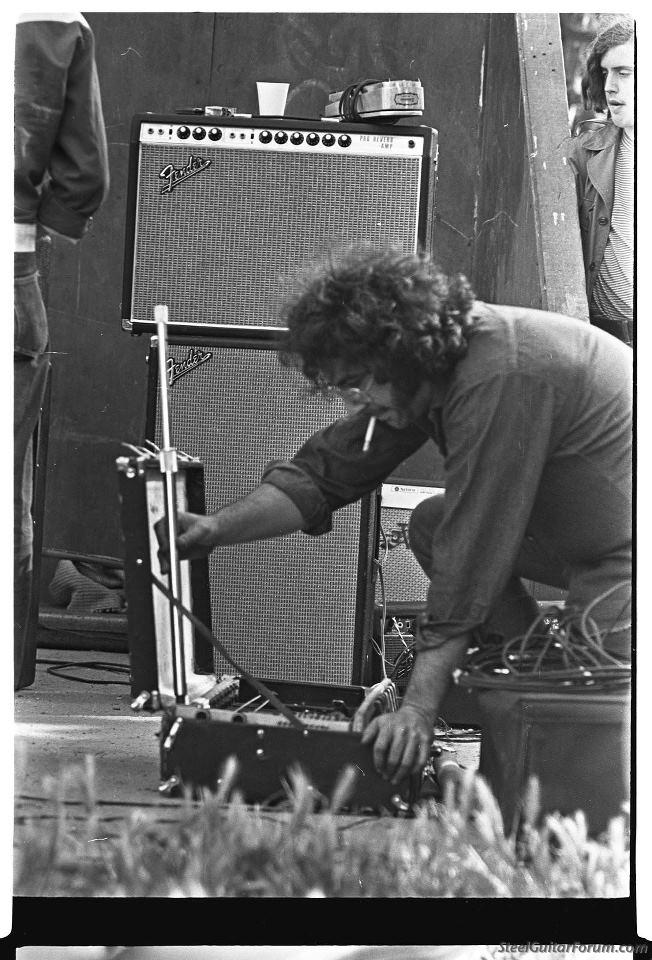 The following quote (read thru the coupla typos) is a recollection written by DeWitt "Scotty" Scott, who owned, and still owns, a Pedal Steel Guitar store in St.Louis, MO:
I was at my store, Scotty's Music" in St. Louis and whole bunch of long haired people came in and all I said to them was "Howdy". I didn't know who they were.They got really riendly and in fact invited me to the Keil Auditorium in St. Louis for their sound check. I went and there was a ZB steel guitar sitting on stage with a Sho Bud amp and a guy was playing on it. He asked me to sit down and play some on it. I did and and this guy was sitting on the floor looking up and when I hit a lick he would say, "far out" and asked how I played that. Of course I showed as I would any other person. I still didn't know who the band was. I went to the concert that night and I then found out it was the Gratedful Dead and the steel player was Jerry Garcia. Jerry set me in a chair a few feet from him ON STAGE. I was ejoying the show until a guy tapped me on the shoulder. I turned around and it was Bob Heil from Marrisa, Il. He said to me, "Scotty, turn around". I did and there was no one behind the stage anymore. Bob said nobody is allowed behind stage when the Dead are playing. I got so embarrassed I got off the stage. The net time that the Dead came to St. Louis and the New Riders were with them and both bands came to the store and we had a kind off the wall jam session. Somtimes Buddy Cage would play the steel and then I would play. I owned Lloyd Green's old double neck Sho Bud with the yellow streak on the front and that is the guitar we played on. They came to the store one more time and anytime they would get within 200 miles of St. Louis they would call me and I would take my reel to reel tape recorder to the motel and took several tapes of the Steel Guitar Convention with me and after their concert we would listen to them the rest of the night. I took pictures and even put up a mike and recorded that jam session. I sold Jerry a double neck MSA and when it came time to pay for it the manager said to me, "Whats our price"? Jerry put his hand on his shoulder and said, You pay this man full price"! Wow! Jerry and I coresponded for awhile and we exchanged LP's with each other. He sent me every LP the Dead and New Riders had and I sent him all of my Midland steel guitar records. Its odd - a guy devoted to pure country and one of the most respected guys in rock and roll getting together and being so friendly with each other. Jerry Garcia and DeWitt "Scotty" Scott Bob Weir and the rest of the band were very friendly too! Scotty
Last edited by
Pete B.
on Wed Aug 01, 2012 8:56 am, edited 2 times in total.