Ok Fellers over the years Iv learned ALOT about Jerry's Alvarez Yairi guitars and I'v always been fascinated with them. Its undeniable they have a coolness factor of 10.
From the joint venture of two great guitar company's (Modulus Guitars San Rafael, CA) and (K. Yairi Guitars Gifu, Japan). To the fact that I'v never seen another graphite neck wood bodied acoustic guitar... So I figured i'd brew some coffee, spark a doob, and share it all here in one post.
Ok so lets start with Jerry's actual Alvarez Yairi guitars (the guitars custom built for Jerry). To my knowledge theres a total of four guitars. One custom DY99, two custom DY98s and one custom Gy2 all had modulus graphite necks. Those are the guitars that later became Jerry's signature model line of guitars the GY1 and GY2 (Jerry endorsed those guitars but never played them)...he played the customs...Only one of Jerry's actual guitars has surfaced. A 1991 custom DY98 Jerry gave to Ramrod that was auctioned off for 102k at Bonham and Butterfields in San Francisco(2006) when Ramrod died.
http://www.bonhams.com/usa/auction/15537/lot/22/
Where the other three guitars are ? your guess is as good as mine...Ok now onto Jerry's custom DY99 and the other DY98 definitely the most played of Jerry's Yairis. Heres a promo photos from the 1992 Alvarez Yairi catalog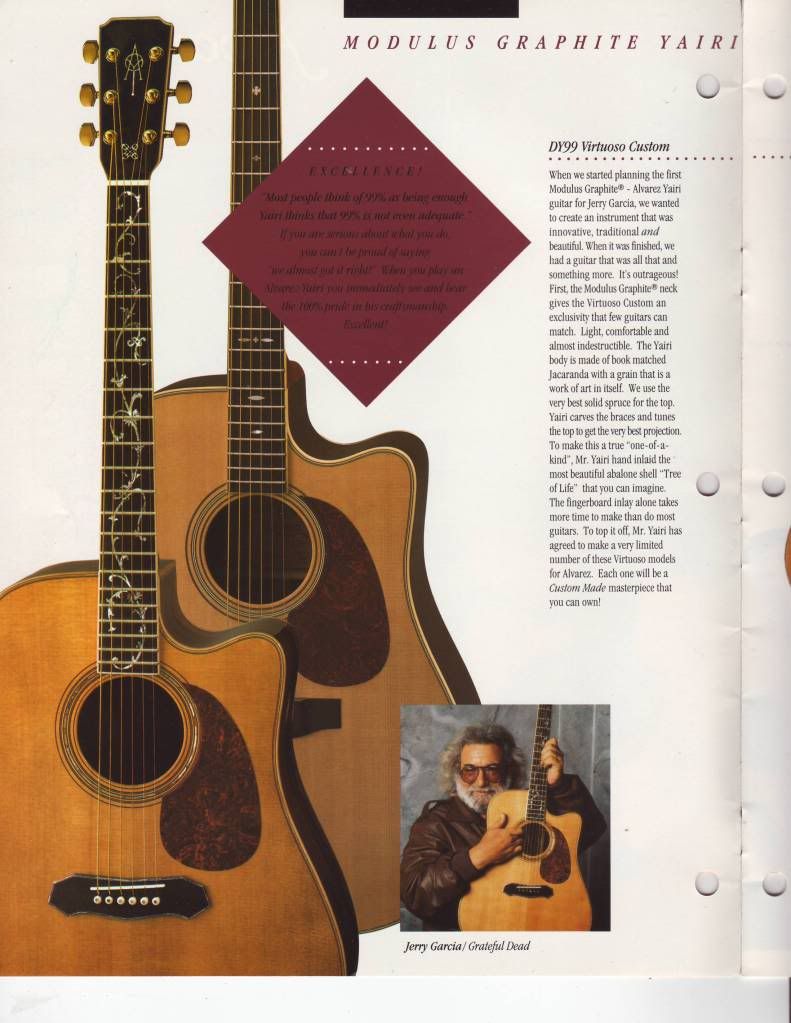 Notice how Jerry's custom guitars have neck and headstock binding
I bring this up because one of the other DY99 owners I'v found(and iv only found two) claims he has Jerry's actual dy99...he does not. The good fellers at Modulus told me there were around 15 Modulus neck tree of life DY99s made in 1992 none have neck and headstock binding...Jerry's customs do except for the DY98 he played most with David Grisman now that guitar is easy to identify because it had the dark stained top and the dy88 style headstock with no tree of life inlay...In this video from Grateful Dawg you can clearly see both Jerry's custom D99 and his DY98 with the dy88 style headstock. Its two separate performances edited together
http://www.youtube.com/watch?v=G4at-v1GGhI
Also the scene in Grateful Dawg "In the Living Room" where Jerry and David are working out tunes hes playing the DY98 with dark top and dy88 style headstock.(the coolest guitar of all of em in my opinion) OK now on to Jerrys custom GY2 Iv only ever seen this one picture of Jerry with it and I dont know much more than that other than its the guitar that later became the Gy2 production model designed by Jerry heres the pic
notice how the guitar Jerrys holding has the Modulus symbol on the headstock and the production guitar does not. Well fellers I hope you found this an interesting read and if anyone else has anymore information I'd love tp hear it