Hey So the MC250 has arrived an I had a chance to mess around with it at the house yesterday.
Thanks to Tracy for a fair deal that went smoothly including safe shipping to my doorstep.
Thanks to Brad for servicing the unit while still in Tracys possesion, and for answering some pre-arrival questions.
From cruising various threads via search I see maybe a half dozen or so guys are using this specific unit, so here are a few more questions.
In "Mono mode" I plug into the Right input jack, and only the Right volume knob contols the output level, but I am still running each speaker in my 2x12 cab individually to the Left and Right output terminals, and they are both cranking equally.
So I have two 4ohm speakers running in parallel for a total of 2 Ohms.
I assume this is like a Twin Reverb when using two 8ohm speakers individually to both speaker-outputs for a total of 4 ohms.
I guess my question is...
In Mono mode, is running two speakers individually to the L/R output terminals respectively, the same as wiring the speakers in parallel inside the cab and running one speaker wire to the bridged output terminal (50W per speaker in either case)?
Also, Is the only way to get 100W output to one speaker to run a wire to bridge the output terminals? The Manual says for a 4ohm speaker to use the Left Terminal Com and 8ohm, and run a wire from the Left 8ohm terminal to the Right 8ohm terminal to "bridge".
What is the deal with "25Volt Line Operation"???... what is that used for?
What is the deal with the "Octal Socket"?
Here is the Manual but obviously I still don't get a couple things:
http://www.berners.ch/McIntosh/Downloads/MC250_own.pdf
Thanks in advance.
I'm sure there will be some other questions.
This thing sounds great!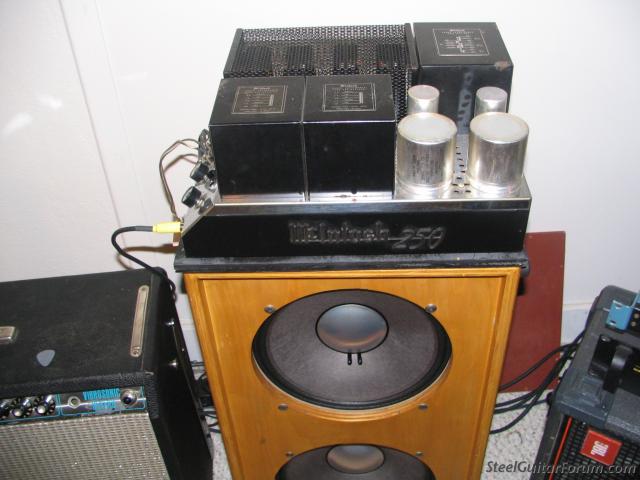 Last edited by
Pete B.
on Sun Dec 19, 2010 4:07 pm, edited 3 times in total.