Hey guys, thanks for the killer response in my new line of custom cables! I'm doing my best to use top-quality stuff while keeping the cost down and affordable--these cables are built for rugged use, and are tremendously shielded for extremely noiseless use. Below is some info and a pricelist for what's cranking out of here:
Currently, all cables are made with
Canare
,
Mogami
or
Belden
wire.
All Plugs are Professional-Grade
Neutrik
Straights, Right Angles and Silents (Silent Straights and RAs kill the signal when unplugged without popping the amp, so you don't have to turn anything off between guitar changes, etc). These plugs are built for a lifetime of use, have great strain relief, and can take an amazing amount of abuse.
All of these cables are hand-soldered and tested by me here in the shop and made immediately to order--I can usually get to your order within a day or two, provided I have everything in stock. Any length or type can be made, so inquire for special lengths and applications--Stereo cables for you guys with Onboard Effects Loops, Snakes, XLRs, Speak-Ons for your PA, you name it—if I don't have it, I can get it and make it. I'm also making Canare or Belden Speaker Hook-up Cables either for your Combo Amp (with various connectors available, or stripped for direct soldering to your speaker's terminals) or for your Head-to-Cabinet connections. These can make a huge difference over the cheap lamp-cord speaker wire used in most amps.
For rugged stage use, I like to add a product called
Techflex
to the runs of cable over 12" patch cords. It is basically a plastic mesh (kind of like the old Chinese Finger Traps) that is put on over the cable and protects it from cuts and abrasion from being stepped on and stuff. The cable still remains extremely flexible, and winds nicely. It currently comes in 19 colors. Check out the color wheel at:
http://techflex.com/prod_PTN.asp
for all the available styles. If I don't have what you want, I can usually get it in just a couple of days.
Canare Cable, Straight Plug-to-Straight Plug :

6"—12"...........$11.00
3'.................$16.50
6'.................$21.00
9'.................$25.50
12'................$30.00
15'................$36.00
20'................$42.00

Canare cable comes in Black, Red, Blue, Orange
Mogami only comes in Black
Belden is Blue

Right Angle Plugs = add $2/plug (not per cable)
Neutrik Silent Plug = add $8
Techflex = add .50/foot
Any color combination of Canare and Techflex can be made, just be sure to specify when ordering.
In addition to the cables, I have also built Custom Pedalboards. I'm also willing to hand-wire your existing pedalboard with new cables, if you'd like a professional, tight installation done for you. I'm also a PedalTrain dealer, so I can hook you up with a new board, all wired and ready to go--just send me your pedals. Feel free to call if you have any ideas that you'd like to talk about.
COMING SOON: I've been asked by a few guys here about Custom Speaker Cabinets, and am thinking about putting a few into production if the demand is there. Please let me know if it's something that you may be interested in, and I'll look into building a few.
If you have any questions whatsoever or to place an order, feel free to call or email anytime!
______________________________
Technical Info:
Canare GS6 is a specially designed Oxygen Free Copper 18 AWG cable for connecting Guitar/Bass or Keyboards to amps, mixers, effects pedals and all outboard signal processing gear. Low capacitance and low series resistance provides improved frequency response (flat to 50kHz). A bright, ringing characteristic sound is preserved, even when using HI-Z guitar pickups with long cable runs. The proprietary double Carbon/Braid Copper shield construction eliminates microphonic handling noise, especially on stage where amps are often set at maximum volume levels. Also highly recommended for Amp Head to Speaker Cabinet leads.
Mogami has been revered by Audio Professionals for almost 50 years. It is undeniably the standard in Music Recording and Post Production facilities worldwide. Mogami guitar cable allows uncommonly clear, accurate, transparent tone, with dead silent background. Since our research has shown that many guitarists actually prefer to move around while playing, we use carbon impregnated PVC as an additional shield layer to eliminate any handling noise. Use for any unbalanced instrument, pedals, patching, etc.
______________________________

Black TechFlex on Red Canare: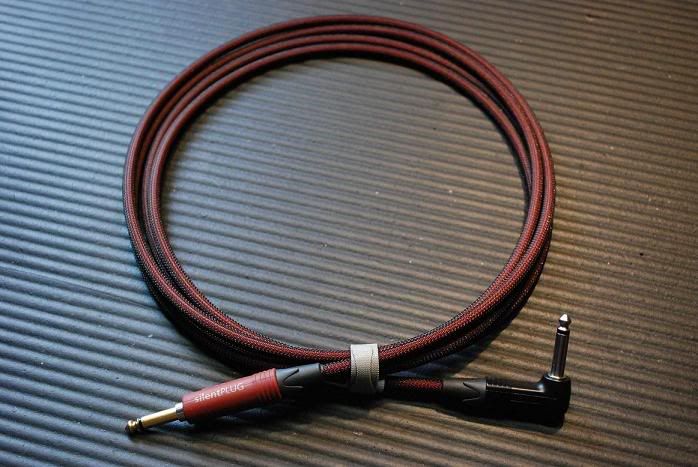 Red Canare, Blue Canare: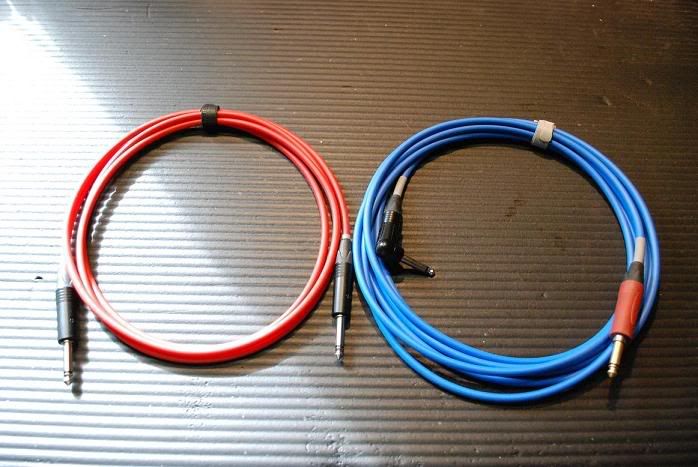 Red Canare 6" Patches: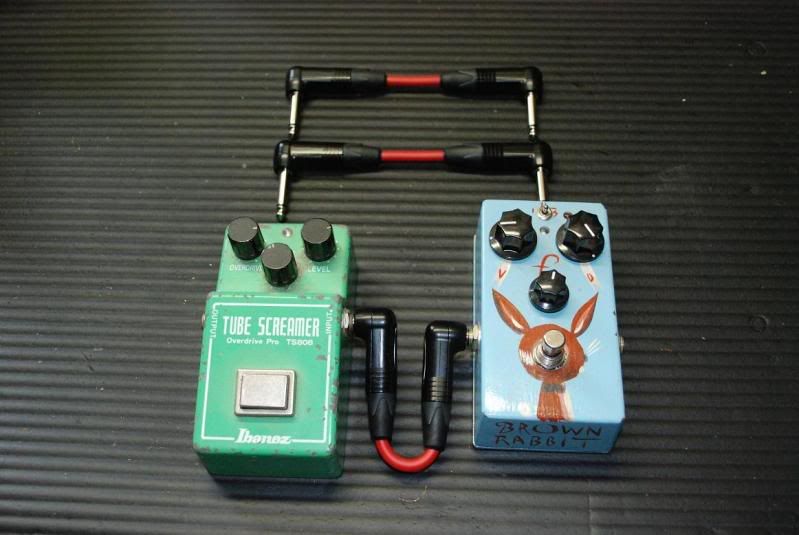 Some TechFlex Colors: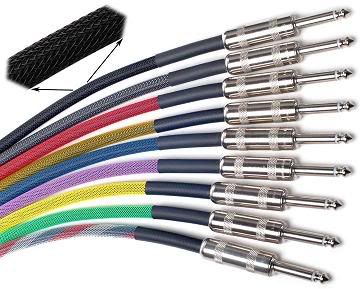 Last edited by
aoguitars
on Thu Apr 01, 2010 7:48 am, edited 5 times in total.