Hey Chuck:
The first 2X12 I built, I put casters on the bottom. The cabinet with the JBLs is extremely front heavy. It is very prone to tipping over and falling on its face. Not good for the speakers.
Putting the casters on the long side of the cabinet would probably help, but I think it might still be challenging to roll it, plus you will be hunched over to push it and that will probably hurt your back more.
When I got the HT cabinet, I popped for the AVS roadcase. I was so glad I bought that thing ... it made life so much easier. The cabinet sits in the tray onstage, and I used to tilt the front edge up on the lip to rock it back a few inches, which helped with projection. And that particular case has high quality casters that will roll over almost anything, even grass. It was very handy to stack the rest of the gear on top (pedal board, head, rack cases) and just roll it all right into the venue. And, since I also bought a dog ramp for the car, it was easy to just roll it right into the back of my wagon. I never had to lift that thing again. Highly recommended. There are probably less expensive cases than the AVS case, but good casters on the case are a must.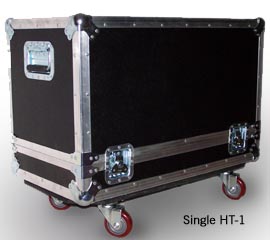 When I had the custom Twin head case made, it used to sit perfectly on its side (like Jerry's) in the tray next to the 2X12, I could wire it in the tray and roll it right onstage ready to go. You can kind of see it here:
That head case is still around if anyone's looking to convert their Twin into a head, by the way.